Auction Status
| | |
| --- | --- |
| Status: | The Auction Is Now Over |
| Bidding Opens: | Sun Apr 10, 2016 12:00 PM |
| Bidding Closes: | Sun Apr 17, 2016 12:00 PM |
| Timezone: | Canada/Eastern |
| Currency: | CAD (Canadian Dollars) |
Get Social
— ADVERTISEMENT —
Welcome To The Auction!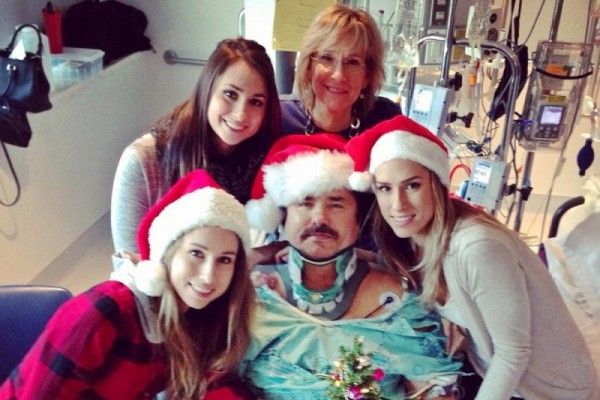 On December 18th, 2015, Don Gainforth was going about his normal life, cleaning out the eavestroughs on the roof at his house. As he was on his way down the ladder, it collapsed, and he fell. This fall resulted in Don being paralyzed from the shoulders down.
He is currently a quadriplegic and doctors have predicted that this condition will be permanent. Even upon receiving this is extremely heavy news, Don's immediate response was "Well, now I have to prove them wrong". Don continues to be strong, faith-filled, and positive through the entirety of this new journey.
Don is currently at The Ottawa Rehabilitation Centre with an estimated departure date of April 25, 2016. During this time the rehabilitation goals are to decrease his neck pain, strengthen his neck muscles and monitor the slight muscle twitches in his right arm . They are hoping he may eventually have the ability to control a wheelchair using a "sip and puff" straw, or a head controlled wheelchair if his neck muscles significantly strengthen.
There are many expenses as Don and his family start this new chapter in their lives. After looking at various options, Don and Cathy have decided to renovate their existing home (estimated $50,000-$70,000), as well as purchase a wheelchair-accessible van (estimated $30,000-$60,000 without tax) and other necessary equipment and hired care (unsure of cost at this time).
As Don was self-employed in the construction industry, and therefore no longer has an income, these expenses are massive. Please support this strong, tight-knit family as they persevere through this difficult time.
https://www.gofundme.com/don-gainforth
https://www.facebook.com/groups/Corkerycommunityassociation/
Winning Bidder Payment Information
Winning bidders will be contacted at the end of the auction to make arrangements for payment and pickup/delivery of their items.
Payment Types Accepted:
Cash (In person only please)
Cheque (Please make payable to "Corkery Community Association")
Online payment via PayPal (a PayPal account is not required. Major credit cards accepted)
Cach and cheque payments can be made at:
Debbie Bernhardt
613-256-1491
1342 Corkery Road
Winning Bidder Item Pickup/Delivery:
Some items will be available immediately at 1342 Corkery Road.
Pick up or delivery of other items will be coordinated between the winner and the Auction Administrator when payment is received.
Services can be coordinated between the winner and provider when payment is received.
Shipping may require an additional fee. Contact the Auction Administrator For Details
General Auction Information
The time on this server will be used to determine the start and end times of the auction. This time may be off from your local time. Refer to the approximate time in the right hand side of this page.
When the auction closes, all bidders will receive an e-mail regarding the status of the items they have bid on.
The highest bid placed on an item, by auction close, is the winner. There can only be one winner per auction item. The auction administrator (group hosting the auction) agrees to sell the item to the highest bidder.
You must register an account in order to place bids. Click Register on the upper right hand side of this page in the login area. Once you have registered, a confirmation/activation will be emailed to you. You must click on the link in the email message to complete the registration process. If you haven't received your confirmation email, please check your "junk mail" or "spam" folder as it may have gone there. You can also re-request the confirmation email. The link for resending the activation code can be found in the login area.
NOTE: eFlea provides a service that facilitates silent auctions for charities & groups/fundraisers. The items up for bids in this auction are listed by the group raising the funds. eFlea is not responsible for the accuracy of the item listings. Please verify item details with the auction administrator(s) prior to placing any bid(s). While eFlea tries to verify the auction administrator(s) and charity/group, we cannot guarantee their validity. Please be cautious and participate only in auctions where you are familiar with the groups and/or administrators.
Information On The Bidding Process Frequently Asked Questions
Please Note that all bids are final. By placing a bid on an item you are agreeing to a contract. You will enter into a legally binding contract to purchase the item from the seller in the event that you are the highest bidder at the time the auction closes. You are responsible for reading the full item listing, and understanding the above instructions and accepted payment methods. The Seller (auction administrator) assumes all responsibility for listing these items. The bidder's source IP address is logged for all bid transactions. Persons placing fraudulent bids may be prosecuted in a court of law.